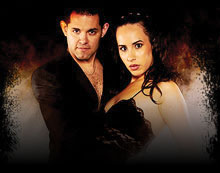 Welcome to our web site! Dancing With Grace provides:
No drama, no vanity dance environments for learning
Classes from certified Salsa Instructors who believe in God
Salsa Instructional DVDís in English and Spanish
Dance articles, etiquette training, & dance shoes
Dance fundraisers, event organization & hosting
Private dance lessons, group lessons & choreographies
Judging for talent, dance, pageantry competitions
Classrooms in Motion Dance Programs for schools & Hispanic Heritage Programs
DWG promotes dancing & teaching dance w/patience & kindness. They teach their students to stay away from the dance scene of pride, ego, envy, lust & malice. They are the winners of the National Presidential Volunteer Service Award, awarded to them by President Bush. Now located in Tampa, Florida DWG is one of the first Salsa Dance Companies ever to be featured in Dancer Magazine. Besides touring, teaching & writing, DWG is dedicated to support charitable events to help those that are less fortunate. Come be part of DWG & experience what Sane Social Salsa Dancing is really all about.