Instructional Salsa Videos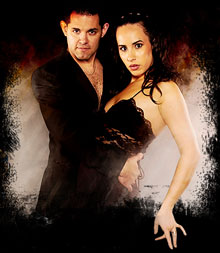 Learn salsa from the certified salsa instructors Hugo Badillo from Puerto Rico and Grace Badillo, 1st generation New-Yorican. With the Salsa With Grace videos you will learn:
valuable tips in each chapter to remind you of key dance guidelines to make your salsa dancing easier.
similarities in certain combinations so you can remember and retain more patterns.
styling that is elegant and beautiful.
to make a move your own and not look like someone else on the floor.
how to properly lead and follow
from instructors who teach salsa and train others how to teach dance and communicate effectively.
With our salsa videos you will be able to learn salsa with style and technique in no time. Included in the videos you will find:
step by step instruction of the most important foundational movements that are usually ignored in other instructional salsa videos.
a count bar containing the eight beats to salsa illuminated during the salsa instructions
practice music to practice what you just learned. Our salsa videos contain salsa music at different tempos so you can practice first at slow tempos and then at faster tempos similar to those played at the salsa clubs.
valuable information about dance shoes, why you need them, and how to take care of them so they will last for years.
---
| | |
| --- | --- |
| Beginner Level I-III Salsa Video | Price: $25.00 |
| (Click on images to enlarge) | |
Product Description
This salsa DVD will teach you the three basic salsa steps and several basic elements including the right turn and left turn. You will learn how to hold your partner, put basic steps and turns together, and how to lead and follow. Additionally, you will learn movements/combinations and how to transition between movements gracefully. Finally, you will learn the Cross Body Lead and combine it with the movements learned in the earlier chapters.
This salsa DVD will teach you how to easily transition from turns into cross body leads, from closed to open positions, from lady's turns to man's turns, and much more!
Product Details
Difficulty: Beginner Level I-III
Number of discs: 1
Length: 60 minutes
Media: DVD Only
Encoding: NTSC
---
| | |
| --- | --- |
| Intermediate Level I-II Salsa Video | Price: $25.00 |
| (Click on images to enlarge) | |
Product Description
The intermediate level salsa video requires you to already know the fundamentals of salsa dancing which include: basics steps, basic right and left turns, basic cross body lead, and how to transition smoothly through these at medium to fast tempo salsa music without losing the beat. All this is taught in our beginner salsa video (please read above). This intermediate level salsa DVD teaches in detail how to perform the cross body lead with (inside) turn and how to lead/follow it with ease and style! Additionally, it teaches intermediate level salsa moves and combinations/patterns and how to transition through them with style.
Product Details
Difficulty: Intermediate Level I-II
Number of discs: 1
Length: 60 minutes
Media: DVD Only
Encoding: NTSC
---
Salsa Videos Package


SAVE $10 when you buy both Beginner Level and Intermediate Level Salsa Videos!!! You have a total of 3 hours of quality salsa dance instruction for only $40.

Difficulty: Beginner I-III & Intermediate Level I-II
Number of discs: 2
Length: 2 hours
Format: DVD Only
Encoding: NTSC