Tampa Latin Club Reviews

Contents
Exile Restaurant & Lounge (Orlando)

1319 Florida Mall Ave, Orlando, FL 32809
(407) 730-6262
Highlights: Exile Restaurant & Lounge in Orlando: Saturday night: An over 40's crowd! Absolutely Loved it!
Recently I had a student who never goes out dancing in Tampa tell me he'd rather drive to Orlando where its less about moves and more about dancing salsa. I was intrigued so I saddled up and went to Orlando with him and some friends. To say I had fun was an understatement. The Puerto Rican food was amazing (Pork chops were the bomb!). The DJ was amazing. That particular night they had a band and it was amazing. The door was amazing. The bartender and servers were amazing. The floor was actually a wood floor for dancing, and although small, absolutely fantastic. The spot was small but I absolutely adored the dancers there. It wasn't about cliques or patterns. It was older salseros (most of whom have not taken lessons) dancing all night long. I think they only played 4 songs other than salsa. It was a dream come true for a salsera like me but I kept having to go outside because I needed a break from dancing! I have to be honest, I danced with a lot of people but the one person who was rude was the guy who obviously had taken lessons in dance. I mistakenly got kicked and I about fell down. I hobbled over and put my head down writhing in pain. My "educated in dance" dance partner didn't even ask if I was okay or if I needed ice or water. He just walked away and acted like he didn't give a hoot. Gentlemen, I beg you, for 5-7 minutes we give you our trust on the floor; if we get hurt, please tend to us. I feel bad for him because the next time I see him, I am going to give him a little etiquette lesson! I highly recommend this location and although it is small they are expanding soon. This location feels like a little piece of family in Puerto Rico!


Yucatan Live Bar & Grill (Brandon)

2016 Town Center Blvd Brandon, FL 33511
813-251-3663
Highlights:Yucatan in Brandon: A mixed bag of ages depending on the night you go: 21-50's crowd.
The first night I went to this location to see my friends teach salsa they had a pipe burst on the dance floor. The huge team was banding together to fix the problem before everyone came for the concert and lesson. I was impressed with the amount of organization and dedication they all displayed. I felt bad for them because they had to shut the water down which made the bathroom situation a small nightmare. Honestly, other than the issue above, which was not their fault, I thought the location was a nice space with a good sized floor and great bartenders who, in my humble opinion, should wear more clothing. LOL. This location used to be a Green Iguana so there is a huge one on the wall. Plenty of seating and an outside area for smokers. Some people compare it to Whiskey North but the crowd on Thursday evening was a very good crowd and well behaved from what I saw. There is a mall nearby and movies so if you don't like it, take in a movie instead.


2001 Piazza Ave #175, Wesley Chapel, FL 33543
(813) 994-8800
Highlights:Prime Bar in the Wiregrass Mall: Wednesday Night Review: 21-45ish crowd. Nice spot.
I like this location. It's a restaurant/bar, but they have a spot on the side they use for socials that is good for dancing. They have a great floor, great bathrooms and really great food and very talented bartenders who can make drinks taste gourmet. The staff was so nice I wanted to hug them. I almost passed out when I saw deviled eggs on the menu; at that point they had me hooked! They do different dance lessons on any given Wednesday. Sometimes they do Kizomba (ew), sometimes they do Zouk (a bit more respectable) and sometimes they do salsa. The DJs change from time to time but when I went it was slow. Sometimes the location is very full and have a great successful dance night, but as with any location in this economy you never know. I think its worth the drive and the money to go to this location. Try the menu… oh baby its good!



5303 West Kennedy Boulevard, Tampa, FL 33609
877-227-6963
Highlights: Mojito, At The Crowne Plaza Westshore: An over 30's crowd! Loved it!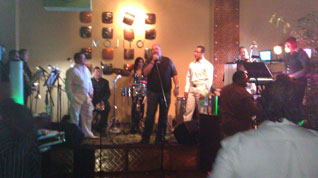 Lately I have been petrified to go to a new location since the last two places I visited had some pretty scary elements to them, but I was happily surprised by Mojito. Once I heard they had live music by some of my friends I decided to go. The moment I heard it was attached to the Crowne Plaza, I was supremely delighted. I have had the pleasure of being the MC and Creative Director of the Berks Salsa Fest in the past; this was also held at a Crowne Plaza up north and Customer Service is pretty good with this hotel chain.
We rolled up and there was plenty of parking. The music could be heard from the parking lot and the door people were friendly; even the security was nice. The pictures online don't do the location justice, as it is much bigger than the photos on the website and I hear they are going to knock down a wall to make it bigger. Although there isn't a wood floor, the floor they have is very smooth and easy to dance on with or without dance shoes (rubber soles not recommended). There were plenty of places to sit if you reserve your spot by calling in and even if you don't have a table they have ample seating by the bar. It felt cozy and the bartenders are well qualified. The bathrooms were very clean. Funny story, I realized I had rushed out of my house and forgot to put deodorant on! YIKES! A dancer should never forget this! So I ran to the front desk and asked them if they had any I could buy. They kindly handed over some antiperspirant and said, "have a nice evening". I didn't even have to pay. I told them thank you! Thank you! Thank you!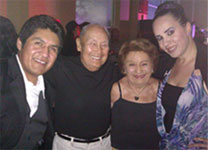 I like Mojito. The crowd is over 21, but mostly over 30. It WAS NOT A SKANKY crowd, but upper middle class, well behaved professionals who like to dance. We even ran into a little couple, married 54 years who danced up a storm! Honestly, they were in their 80's and danced harder than anyone there! Everyone was in awe! They didn't stop either. It's this kind of spirit dancers love, every age, every shape, and every nationality together having fun. It wasn't cliquey. It was a safe place; I recommend dancing at Mojito and if you drink too much (which I would hope you wouldn't), just get a hotel room at the lovely Crowne Plaza! If you don't like it, the mall is a quarter of a mile away and you can catch a movie instead.



4054 Shoal Line Blvd, Hernando Beach, FL 34607
(352) 592-5556
Highlights:An over 45 crowd, Casual fun.
R Beach has Latin Nights typically every other Friday I attended and found a huge group line dancers dancing to everything with Latin beats and of course, salsa, Merengue and the like. This group, although, clearly dancers, are not the LA STYLE or MAMBO types but rather "old school" which I tend to enjoy because there are no pretentious types acting superior. This location has AWESOME QUESADILLAS and other foods too. The bartenders are kind and the service is quite good. Although this location is in Spring Hill/Hernando Beach area, it's worth the drive and a really fun time for casual fun over 45. I would go hungry because I loved the food. They also have another room that you can use for private parties. Check out R Beach and bring your parents, they will love it. Djs rotate there and the floor is good for dancing.



Flavafitness Studio Lutz Social

23600 State Road 54 Lutz, Fl 33559
888.478.6455
Highlights:An over 30 crowd; if dance is your hobby you may like this location!
Finally, An amazing dance floor! Since I teach every Saturday, I have typically danced 6-8 hours by the time people begin dancing at 9 pm socially. I can be very sore because of this. I wanted to go check the location out and I was happily surprised at how the floor had such amazing supports and foundation. I danced til close and was not in pain! They have fans and air conditioning, clean bathrooms and lovely people running the door. Everyone had a lovely time; they sell water and other soft drinks. Besides the weekly social they teach all forms of dance exercise and movement! Check them out in North Tampa Today!



8336 W. Hillsborough Av. Tampa, FL 33615
(813) 391-1056
Highlights: Friday Nights in Tampa - Regular location for locals!
Another great location for socializing with sane people is Simone's social on Hillsborough Avenue. People of all levels, ages and cultures go to this location. If you are looking for the "I dance better than you on 2" crowd, this isn't the place for you. I have seen people dancing on 1, 2, 3 and 5 at this location! This location is not a bar; it is a dance studio with plenty of free parking. Many times she even has events where there is food available. Dance lessons happen before the social and varying times. I send my students to this location on a regular basis to have fun in a non-threatening environment with people who just want to have fun and social dance-drama free; Oh what glee! She also has a Saturday Evening Social In Brandon in a smaller studio that I have not gone to: Check their schedule online at www.simonesalsa.com




2223 N. W. Shore Blvd. #B203, Tampa, FL 33607
(813) 873-2583
Highlights: Tuesday nights in Downtown Tampa: Great live music. Great DJ.
Blue Martini is an acquired taste. My buddy Leo teaches there on a regular basis and I sub for him when he is out of town. The floor is small and it can get quite packed like sardines. People end up dancing on the side of the second bar where there are small strips of hardwood floor dancers like to dance on. The kind of dancers you will find range from drunk dancers who think they know how to dance to seasoned salsa/mambo dancers who dance w/"their crowd". I have gone to this location and if I am not with a clique or specific school, sometimes no one will ask me to dance. I ask everyone so I don't mind, but I am not into the "gotta be with the right people to dance" crowd. There are live bands that rotate and great DJs. I say it's an acquired taste only because it gets packed and it's hard to dance if you get there after 9 pm. I am a dancer, so prefer plenty of space and a hardwood floor which is why I am selective about where I dance. The management runs things well. Leo usually does a free introductory lesson late and is entertaining and fun. Call the location for details. www.bluemartinilounge.com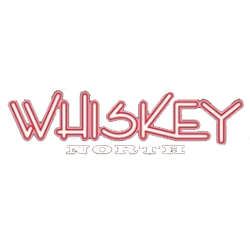 11921 North Dale Mabry Hwy Tampa, Florida 33618
(813)968-1515
Highlights: Wednesday Nights in Carrollwood, Tampa: Love the motif!
Hate the name of this location-Whiskey is so ew, but I love the feeling of this place. I grew up in the summers in Puerto Rico. I used to swim in the rivers in the mountains and there were gorgeous soft rocks at my feet in the water. This location has huge rocks just like those inside on the fireplace and outside too. It's so neat to look at and be around. The floor is large enough for a lot of dancers but isn't a hard wood floor; they have plenty of space for sitting. This location, however, sometimes has problems w/ the septic of their bathroom; sometimes you can smell the odor when you walk in the club but most the time its okay. Almost every school on earth has taught her outside of us, but nothing ever seems to take off at this location; this is shocking to me because I really love the way this place looks; most Puerto Ricans do! They have many different dance evenings, but they change frequently so make sure to check out the site to see what is going on there. No Hats, sportswear or baggy clothes. To find out more about this location go to: www.whiskeynorth.com. Plenty of Free Parking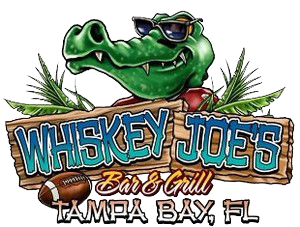 7720 W. Courtney Campbell Causeway Tampa, Florida 33607
813.281.0770
Highlights: Barefoot Bar: Sunday Afternoon/Nights In The Summer: Great live music.
I love, love love this location. They have an outside section with sand, bay water, a bar, space for games and just relaxing. There is a stage where in the summer they bring Latin bands on Sundays in the afternoon around 5 pm. It's still sunny in Florida so it feels great out. You can bring your own beach chairs (you will need them), order food from the bar and watch the bands. There is a concrete slab in front of the band where people dance. Its sanded so it's easy to turn on it if you have a decent shoe, but I just bring my battered up old practice shoes or dance in REALLY TIGHT FLIP FLOPS WITH A SMOOTH BOTTOM. I have actually danced in both and its fine, although, I never recommend flip flops for dancing. This is a place where dancing in closed position is best. I really just enjoy having a great time outside in this breezy fabulous location. For a dance instructor to state that she wants to spend her Sunday after church dancing is usually insane but it's hard to say no to this location in the summer when they have Latin themed bands. They have a beach umbrellas/tables on the Beach, fire pits, Live Entertainment, and Tampa's Only Boat-up Beach Bar. You can drive your Boat, Wave-runner or any other watercraft right up onto the Sand. They have a Corn Hole, and Soon they will have Regulation Tournament Volleyball Courts right on the beach. Call the location to find out the start of their next season and I will meet you there! To find out more about this location go to: www.whiskeyjoestampa.com/whiskeyjoes/barefootbar.aspx.




1806 West Platt Street Tampa, FL 33606
(813) 254-2233
Highlights: Various Nights in Downtown Tampa; Unusual Feel & an Acquired Taste
When I first moved to town everyone talked about Hyde Park. So of course, I had to go see it. I was sadly disappointed. It's interesting in many ways though. It has a section that is inside but with no roof so you get the outside feel which I loved. There was plenty of spaces to sit and chill with friends. I was wondering, where is the dance floor? Finally I realized I had to go to another room to find the floor. It has a low ceiling and although I am not claustrophobic, when it gets packed in there it feels really claustrophobic and moist. People drink a lot in there and it gets really messy. Drinks are usually spilled on the floor and no one ever comes to clean it up so your dance shoes will get ruined at this location. I went there twice and ruined two pairs of shoes; haven't been back since because I can't dance in street shoes and refuse to ruin my shoes. The crowd is very young so if you are in your 30's and 40's or older this may not be the place for you. Contact this location to find out which nights they have Latin night as it has changed recently. Please check their website for more information at www.thehydeparkcafe.com.


2408 W. Kennedy Blvd Tampa, Florida 33609
Highlights: Various Nights in Downtown Tampa; Meat Market Feel & Young Crowd.
When I first walked into the location (on a Thursday Latin Night) I was greeted by the lovely ladies of Dynasty Events who are very sweet and charming. They were the best part of my evening! As you all know I am brutally honest with my reviews and never mean to hurt anyone or any business by them but have to give my spin on what I experienced; my students deserve the truth so here goes: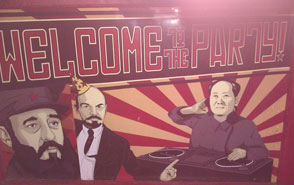 At first glance, the vibe was really interesting. It is put together, and well "decorated", so I thought. As I started looking around I noticed lots of different pictures of all kinds of pop culture celebrities, album covers, names of bands and such. It made looking around interesting and not boring, so I totally understand the designer's idea, but in continuing to look around I became more and more offended. I almost stormed out when I saw a large picture of a group of communist dictators together; it suddenly felt very anti-American in this location. Being a Patriot, I was immediately bothered. No one seemed to notice or care outside of those in my company. Offended and confused at the décor, I suddenly I found myself in front of what I like to call the CREEPY IDOL ROOM complete with two gigantic statues of Buddha and black hands framed on the wall amongst other odd photographs. Seeing a theme here people? This room was the VIP room, roped off for special guests, but easily seen by the other guests.
The Music: The DJ earlier on in the evening is RAPHY, one of the best salsa DJ's around Tampa. He typically opens the evening and leaves early and other DJ's take over to do a more "RAW" version of the evening where anything goes and lots of reggaeton is played; and it isn't the more clean version of reggaeton. I was even told from a trusted acquaintance that, "it gets nasty later", so I should leave early since they knew I was on the conservative side of dance. I was getting more and more bothered and then I noticed the two half naked go-go dancers dancing in a bra and panties. One of my male friends asked, "Do you know what they need?" I asked "What?". He said "Clothing!" Thank God for men who think lust isn't a good thing!
The fact is, this night is a truly YOUNG CROWD looking to dance yes, but a very large portion of the room is interested in two things, getting trashed and getting hooked up and they have plenty of drink specials to help you along. If this is your goal, you will meet many friends here; I recommend everyone rethink not only what they dance to, but where they dance and what they support when they spend money in a location that promotes communism and the worship of IDOLS. This is not a place for believers to go alone, but in a large group to be a good example and minister to the lost. Their website is www.thekennedysoho.com.


9202 Anderson Road Tampa, FL 33634
Highlights: Latin Nights in Tampa, Fl. A Mixed Bag.
I decided to drop by one of the Friday/Saturday Nights at Green Gators once I heard they moved the salsa indoors to the air-conditioned, non-sweaty floor. My peeps and I ordered dessert which was good and waited for the music to begin. They serve food until about 10 pm or so. There weren't many places to sit at this location inside, but they did have VIP tables at $25 bucks a pop that you could "rent" to sit down and a few other places people could grab a quick rest between dances. This may have changed recently as the managment has changed. Call for updated information. The floor is not a real hardwood floor and its very sticky and hard to turn on, but sometimes its clean and I could dance. Inside the people were a mixed bag, From 20-somethings to 50 something's. The dancers range from beginner to intermediate III, but like to think they are advanced. Many people there dance on 1 and 2 Puerto Rican Style. As you know many people who say they dance on 2 dance on 3, 4, 5, 6, 7, and 8 and have no idea how to maintain the rhythm; these on 2 dancers are a bit more seasoned having learned from Sonia Rivera of Diamond Dancers; most maintain rhythm and can dance well. People wear casual clothes and jeans a lot, which makes me wonder all the time. Florida is so hot! Why on earth do people wear jeans to dance salsa? We saw more 5 inch heels than you can imagine, all of whom don't really dance salsa. The real dancers tend to have dance shoes; I did see people changing shoes, so you may have luck finding dancers here.
The scary part of this location wasn't inside but outside: The Reggaeton and House Dance Floor. They have a bigger section with a thatched roof, a very beach feel in the back. There is a bar outside and they had tables and a very large dance floor that isn't wood. The outside area is used for the "I-Need-Attention-Over hormoned-Hump-Each other" crowd who mostly do not venture inside for anything other than going to the restroom. They had 2 half naked ladies dancing on the speakers (and seriously, it was shocking what they were wearing; yes they looked great but GEEZ); I felt bad for them. Its my recommendation, that whatever you do, don't venture outside, unless you are looking for a venereal disease. Okay, I know, not all people who dance Latin hip hop are disease filled, (I used to dance this stuff before I became a Bailarin and a God fearing woman) but if you saw what I saw, you'd know they were on their way to being disease filled! LOL. This location is a mixed bag. If you go, go early, go with friends, stay on the inside dance floor where it seemed very safe, eat dessert, dance a bit, and leave early. The Veterans 24 movie theatre is right next door so if you don't like the Green, just catch a clean movie instead! Stay safe and God Bless!

Note: Reviews are for locations that have been open for more than one year and consistently have either have classes or play salsa and merengue at their locations. If you would like me to review your location and be added to this page, please contact me at grace@dancingwithgrace.com.