Articles & More
Classrooms in Motion at Chinquapin Middle School
By DWG Staff & Grace Badillo
Dancing With Grace Productions, Inc.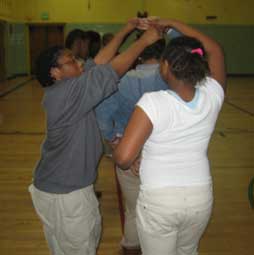 The Latin Dance Team of Chinquapin Middle School has come into its own this spring! Many young people hailing from the sixth and seventh grades regularly gather on Wednesday afternoons to learn Salsa, Merengue and Bachata with Grace Badillo. One of the boys, who is hard of hearing and requires sign language interpretation, is also one of the most enthusiastic dancers.
Even though the weather put a stop to most of the March practices, Grace and the team pressed on. To gather momentum for the June recital, Grace lengthened team practice each Wednesday to a full hour and a half and even added one full day throughout May. This requires the kids to put out a lot of energy even after a long day at school, but they pressed on!
Grace is assisted by Kat Brouse, a teacher at Chinquapin and passionate Salsa enthusiast. Kat opens her classroom two days a week at lunch time for the kids to practice, and they show up regularly. A recent email from Kat exploded with delight at how much energy the team members put into these practices.
Early in February, Sarah Caldwell of Channel 11 came to team practice with a camera person. She filmed the class practicing and interviewed Kat about her experience working with the team. Kat spoke of the difficulties these children face in their everyday lives, and of how dance gives them a chance to be creative, to be themselves. Sarah then interviewed a boy and girl on the team. Padejiah Gladden smiled and talked about how happy she feels when she is dancing. Diamante Williams spoke of the good choice Latin Dance has been for him, a time when he might otherwise have been fighting. Sarah's news story aired on Wednesday, March 21 on the Channel 11 Five O'clock News! Sarah also came back in June and finished her two part series on the children; this story aired on June 18, 2007. To check out the story go to: http://www.wbaltv.com/video/13525003/index.html?source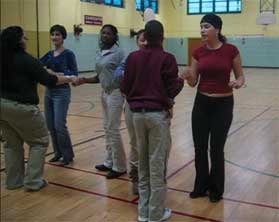 The June Latin Dance recital was a hit. Between their performances Dave Malek and his partner Sheila performed a Cha-Cha and West Coast Swing. Grace, Hugo, Nissim and Rowan also performed a salsa. The night was exciting and filled with happiness. The children did so well they hugged each other and had a few tears in their eyes! At the end of their Bachata and Merengue routines Grace called each of the students up onto the stage giving them special awards recognizing their individual personalities. Here are some of the award titles: Most likely to succeed, Most dedicated Male/Female Dancers, Most Likely to be a DIVA, Most likely to be Ms. USA, Most Enthusiastic Dancer, and even Most Likely to be a Soap Opera Star!
By the end of the evening family members were overjoyed and Grace was in tears. This experience was truly rewarding and helped the children understand that though they may be facing difficult circumstances in their lives they can always let dance help them find their joy again.
DWG would like to thank everyone who made this possible. Through a generous donation by Exceptional Software Strategies Grace was able to purchase dance shoes for the team, incentive prizes throughout the entire session and even bought dance costumes for their grand performance; they were also able to keep the costumes! Its companies like these that give to others and ask nothing in return that we should be praying for and using on a regular basis! Thank you Exceptional Software Strategies! Thank you to all the volunteers and family members that made all of this possible and to the children:
"WAY TO GO! YOU ARE ALL STARS! YOU DID IT! WE ARE SO PROUD OF YOU!"