Articles & More
Classrooms in Motion
Exceptional Software sponsors dance program at Chinquapin Middle School
By Rowan Job-Julian & Sylvie Schuresko
Photos by Jason Putsche http://www.jasonputsche.com/
Dancing With Grace Productions, Inc.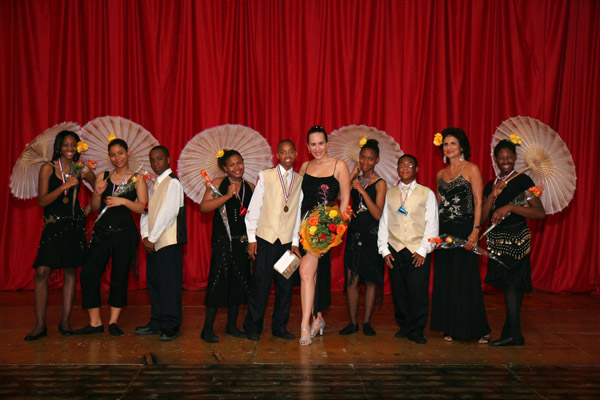 Chinquapin Middle School's new Latin Dance Team gave their first recital on Friday, June 8th. Normally, a middle school dance recital doesn't garner a great deal of attention from anyone other than doting parents. This performance was a bit more unique; Chinquapin was chosen to be the pilot school in Dancing with Grace Productions' new Classrooms in Motion program.
Chinquapin Middle School in northern Baltimore is struggling. More than three quarters of the students are eligible for free or reduced-price lunches, test scores are below average, and the school has problems with gangs and violence. Kat Brouse teaches deaf and hearing impaired students at Chinquapin, and has also been an avid dancer for several years now. She took classes from Grace Badillo, president and founder of Dancing with Grace Productions, where Exceptional Software's Rowan Job-Julian is also a part time instructor. Last summer, best friends Ms. Brouse and Ms. Job-Julian were discussing the benefits of dance as seen in movies such as Mad Hot Ballroom, Take the Lead, Dance With Me, and Shall We Dance, when Ms. Brouse realized that dance lessons could be a positive influence on her students. Ms Brouse approached Dancing With Grace Productions to turn Ms. Brouse's idea into the Classrooms in Motion project. Ms. Badillo donated her company as the face of the program, and Exceptional Software sponsored the program, providing funding for shoes, costumes, and instruction. At the beginning of the school year, Students believed to be particularly at-risk were invited to participate. WBAL-TV has been following the students' progress, and taped their final performance. "It is truly rewarding to see the positive changes in all of the students who participated in this program; they all have found the light within themselves and are letting it shine now." Grace Badillo said.
Classrooms in Motion brings dance instruction and performance opportunities to poor and disadvantaged students in Baltimore city's public schools. These schools offer very few opportunities for extracurricular activities, and many students are left unattended for hours after school. Baltimore city is plagued by crime and poverty, which affect many students' entire lives. Morgan Quitno Press recently ranked Baltimore as the twelfth most dangerous city in the US in 2006, and the Census Bureau placed Baltimore as the fifteenth poorest major city in 2004. Programs like Classrooms in Motion give disadvantaged students a chance to try out activities they wouldn't be able to afford otherwise, but more importantly, these programs help to keep kids away from drugs and violence by keeping them busy. According to the National Youth Violence Prevention Resource Center, "Students who spend no time in extracurricular activities… are 49 percent more likely to have used drugs and 37 percent more likely to become teen parents than are those students who spend one to four hours per week in extracurricular activities. The link between after-school program participation and violence prevention and increased achievement among youth is increasingly evident as new research emerges. A joint report from the U.S. Department of Education and U.S. Department of Justice shows that students in after-school programs exhibit fewer behavioral problems, better ability to handle conflicts and improved self-confidence." "After school programs have more crime reduction potential than juvenile curfews," says the National Criminal Justice Reference Service, and teens are significantly more likely to commit or to be the victims of violent crimes in the after-school hours. Ms. Badillo hopes to expand Classrooms in Motion to include more schools next year.
"To be an exceptional company we must not only serve our customer we must serve our community. In doing this we have the opportunity to leave a legacy that can have an impact far beyond the life of our company." - Ray Bowen
For more information, see:
http://www.ncjrs.gov/html/ojjdp/9911_1/contents.html
http://www.safeyouth.org/scripts/facts/afterschool.asp
http://www.bcps.k12.md.us/Student_Performance/PDF/school_profiles/school046.pdf
http://www.dancingwithgrace.com/