Articles & More
Dance For Health In 2009
By Grace Badillo, President
Dancing With Grace Productions, Inc.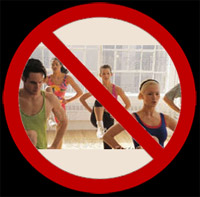 Hate the gym but love brownies like me? Then why not focus on dance in 2009 and watch the pounds slip off (after eating tons during the holidays of course!).
If someone told you, tomorrow "you will run 15 miles", would you laugh at them? I know I would, but did you know that in one typical Saturday evening of dancing salsa you can dance upwards of 10-15 miles? Without knowing it salsa has become a fantastic form of exercise. We can trick our bodies into doing exercise that is much more fun than just visiting the gym! In most of our lessons we have found that a beginner class takes you to about 2.5 miles and as you continue to move up in levels we step up to 10 miles in 1 hour! Footwork classes even tend to surpass this number.
Ever notice that you tend to sweat just a little more when you dance salsa? I had a student say recently, "I can work out in the gym for 1 hour and not sweat as much as when I sweat taking one of your classes! Why is that?" Well the answer is "full body movement". When you dance salsa you are completely engaged, mind and body! In a gym you work out sets of muscles so you sweat less unless you get on that treadmill and go no-where very fast!
So I am starting a movement! Boycott traditional exercise and just dance! (sorry Hugo!) When you are sad, dance it off. When you are mad, dance it off. When you ate too many donuts, eat one more and dance it off! We are never going to look like one of those models on television, but honestly, why would we want to do that? Why would you want to eat a tasty "air sandwich?" when you could have some Arroz con pollo and dance salsa! Hay Que Bueno!
To dance salsa forever come to our lessons at a location near you! www.dancingwithgrace.com