Articles & More
How to Find The Love Of Your Life
By Grace Badillo, President
Dancing With Grace Productions, Inc.
The search:
To find a life long partner who fills your life with added joy.
The task:
To obtain the skills necessary to stand out and attract that special person.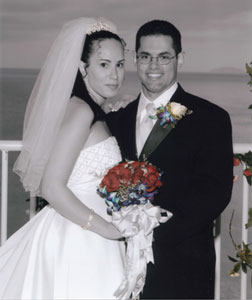 Well, if you have testosterone or estrogen then you understand that incredible urge to find the love of your life. It should be no surprise that the #1 way to attract women is to learn to dance. Men who know how to dance are more confident, popular, fun, entertaining, less stressed and more attractive to women. Men moving, dipping, spinning, and stepping with accuracy show their inherent superiority and confidence. This not only attracts women to men, but it can make them curious to get to know the other side of a man's personality.
Women don't want a weasel; women want a man who is self assured, reliable, honest, coordinated and fun to be with. In my experience of teaching dance for so many years women have continually expressed their contentment with friends they have made in the salsa and Latin dance community. Most of these men are more respectful and usually not as jealous because dancers dance with everyone!
On the other side of the coin women who dance are more confident than the average women, are more physically fit, care about their appearance more, have an easier time allowing a man to lead, which can be an essential factor in dance and relationships. Men find all of those things attractive and thus find women who dance to be more fun, lighthearted and more approachable than other women.
To those of you who need to feel an "unstoppable" lust and sexual chemistry for someone before dating them I have some serious advice. This feeling is the WORST possible way to gage if you should date someone. It blinds you into believing things about the person that aren't true and suddenly when the smokes clears and the lust isn't as strong anymore because your testosterone is depleted, you see this person before you that you aren't attracted to. Why? Because you weren't paying any attention to who they are that's why! Have you ever felt this way? Have you ever asked yourself "what in the world did I see in this person?" You didn't see anything! You "felt" physically attracted and nothing more; it's a basic natural instinct. But what separates us from animals is our ability to see past attraction. My advice to those of you who keep going around this same mountain is to stop judging people by their physical appearance and focus on character which is truly the measure of a person and what will stand the test of a relationship when the chips are down! Being INITIALLY attracted to someone isn't always the answer. Yes, I know, you aren't going to date someone who is "ugly" or "smells bad", but before you judge someone find out what they are made of. Some of the best looking men out there have 3 babies mothers! EW!!! Some of the hottest girls out there have herpes! So to those of you who are into that "He/She has to be really attractive", why don't you try requiring "he/she has to be a person who keeps their word, who you admire, who respects others, who's on time, and who's character is noticeably good." If you maintain that attitude about finding the love of your life you will attract the most beautiful person to you. I know this, because I found my husband when he asked me to dance salsa (one of my first requirements was met; HE DANCED SALSA). At first glance, he wasn't "my type", but I focused on his character first, and once I saw his character, the attraction was inevitable and we were engaged 10 months later. (By the way, I was completely convinced I never wanted to get married!)
Finding the love of your life doesn't have to be an endless parade of blind dates with bad breath, no job, and two left feet. It doesn't have to be difficult! Doesn't the love of your life end up being your best friend? It can be as easy as coming to a dance class, getting familiar with each of your partners as you are rotating from one to another, becoming friendly, enjoying learning with others, and then staying and practicing afterward with the new acquaintances and friends that you have made. Take your time and watch your partner's behavior. Do they drink too much? Do they leave with a different girl every night or you can just ask the dance instructor because we see all! Also, don't just give out your number to just anyone. Try telling a woman you enjoy spending time with to meet you at a dance class instead or meet you to practice at the club and have a cocktail early. Take the time to become friends first to see if you are even interested in going any further and if doesn't work out you will still have a great dance partner to enjoy in the future.
So in conclusion dance can be a great way to introduce yourself to someone without coming on like an over-hormoned teenager, but instead like a true gentleman. It can also help you conduct yourself with grace and elegance and encourage men to treat women with respect and honor. After teaching for so many years I can tell you that many wonderful couples have been made through dance and I can only hope our instruction would have something to do with your lifelong happiness. Play safe and dance!
*If you have met the love of your life dancing salsa please send a picture to grace@dancingwithgrace.com with your story so we can post it on line!