Articles & More
Patterson Park Charter School Can Dance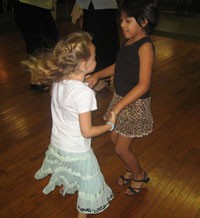 By Grace Badillo, President
Dancing With Grace Productions, Inc.
Celebrating Hispanic Heritage Month for many schools and businesses this year has been a blast. Recently Grace & Niss performed and taught for the Patterson Park Public Charter School in Baltimore City. The children and parents bonded over dancing and had a fantastic time. Each child went away with a tad bit more self esteem than when they had started and blossomed with every song. Some that were shy left energized and engaged instead of alone against the wall leaving us with the feeling that this is definitely the best job in the world.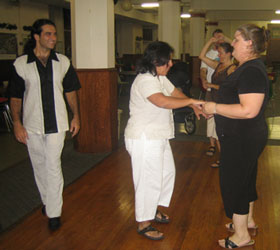 Thank you to all of the lovely children who participated but especially to the organizers of this event because dance can make a difference in the lives of children. From helping them learn how to be respectful of their partner to learning good posture dance is a great method of teaching many necessary social skills including self control.
Most of the parents who came joined in as well and had a blast too! There was also a lovely couple there (one of the staff I assume); just as in many cases, the wife really begged her sweetie to come and he was a real natural! Way to Go Slick! We knew you could do it!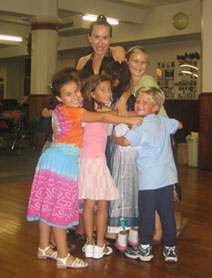 Whether it's a child or the child within you, dance truly is a blessing to the masses! Thank you Patterson Park Public Charter School for allowing us to be part of your lives and bringing a little joy to an otherwise dull and rainy evening! Hispanic Heritage is alive and well at the Patterson Park Public Charter School! For more information about Patterson Park Public Charter School go to http://www.marylandpublicschools.org.
Happy Hispanic Heritage Month and we hope to see you all next year!
Sincerely,
Grace & Niss, Dancing With Grace Productions